Get Involved
It is important for us to look after the most vulnerable in society and therefore comply with all necessary measures in keeping our community and beyond safe during this time. Please contact us if you are requiring assistance from our Community Care Team.
Get Involved
More Ways To Get Involved
Our home groups meet weekly or fortnightly, often in the evening.  We have women's, men's, mixed and a young adult group.  There are people who enjoy getting together for bush walks, crafts and monthly social outings for the retired.  If you're looking for more information or to join a home group please contact Christine to discuss your best fit.
Serving Sundays / Church Dinners
Roughly every third Sunday of the month we host non-traditional services.  During Serving Sundays we perform acts of service for our community.  These can include gardening, washing cars, picking up rubbish, sewing, craft, serving a local school and includes a safe space to pray and receive prayer.  We end out time with a BBQ dinner in our Binnowee Garden.
On an alternate month we have a Church Dinner.  During this time we share in some worship, prayers and a meal together where as a smaller group we spend time around a focus topic for discussion.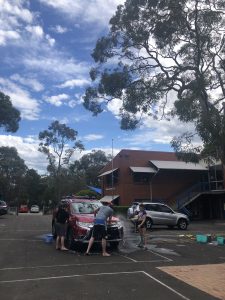 Jesus calls us to serve the poor and the marginalised and we encourage people to participate as they feel led.  Weekly we collect items for Hornsby Connect and regularly support Hornsby Kuring-gai Women's Shelter.
We are partnered with Common Grace and join them in their call for Aboriginal Justice and will acknowledge Aboriginal Sunday, Reconciliation week, NAIDOC week and other events through the year.
We also partner in a large ministry in Devanahalli India, supporting orphans, widows and pastors.